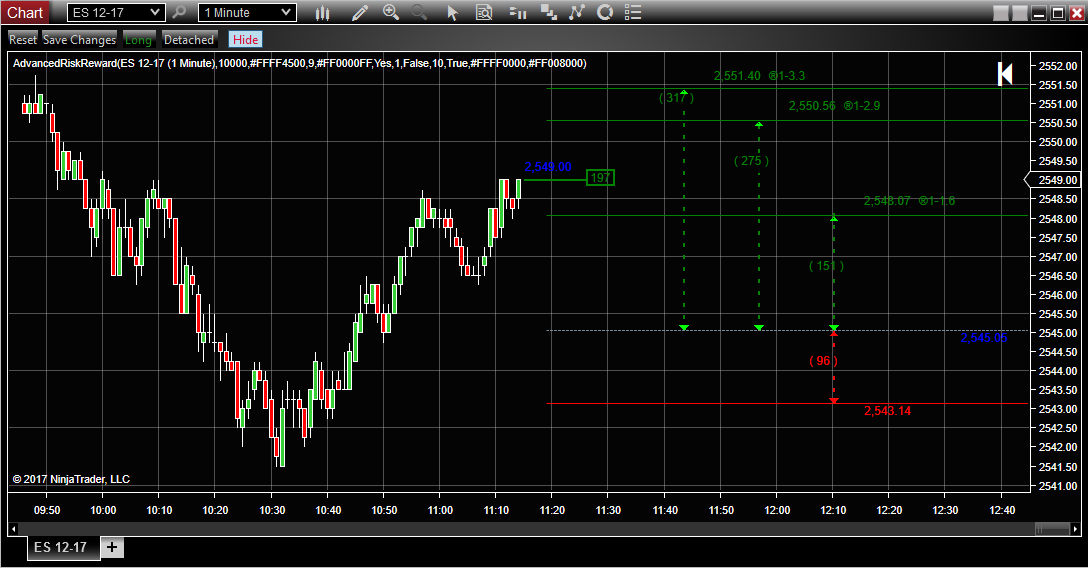 This is a port of the NinjaTrader 7 AdvancedRiskReward.v3 indicator.
This indicator helps you define your entry, stop and target (1 or 3) visually on the chart with the help of horizontal lines, calculates your potential P/L ,unrealized P/L,Risk/Reward ratio and contracts sizing per account size.
Once started click on the chart 3 times there where you think your values will be appropriate , then shift the lines as needed and save the changes.
- Defines your Risk/Reward ratio using 1 or 3 targets
- Save & reload your values,be it minute,daily or weekly chart (One set of values per instrument)
- Interactive Mode: per-tick P/L based on the chosen contracts size
- Interactive Mode-Attached: per tick potential P/L
- Non-Interactive : Contract sizing is based on the defined risk per account size
- Hide/show the indicator as required & show/hide on start-up
- Extended or short lines
| | |
| --- | --- |
| Created By | NinjaTrader_Jim |
| NinjaTrader Version | 8 |
| File Size | 16.0 KB |
| Create Date | 10/25/2017 |
| # of Downloads | 6304 |
Importing to NinjaTrader 8 is Easy!
To import your 3rd party app or add-on to NinjaTrader, simply follow these 3 steps:
Download the app or add-on file to your desktop
From the NinjaTrader Control Center window, select the menu Tools > Import > NinjaScript Add-On…
Select the downloaded file from your desktop
Questions?
Visit the NinjaScript File Sharing discussion in the NinjaTrader user forum to interact with fellow traders and the NinjaTrader support team.