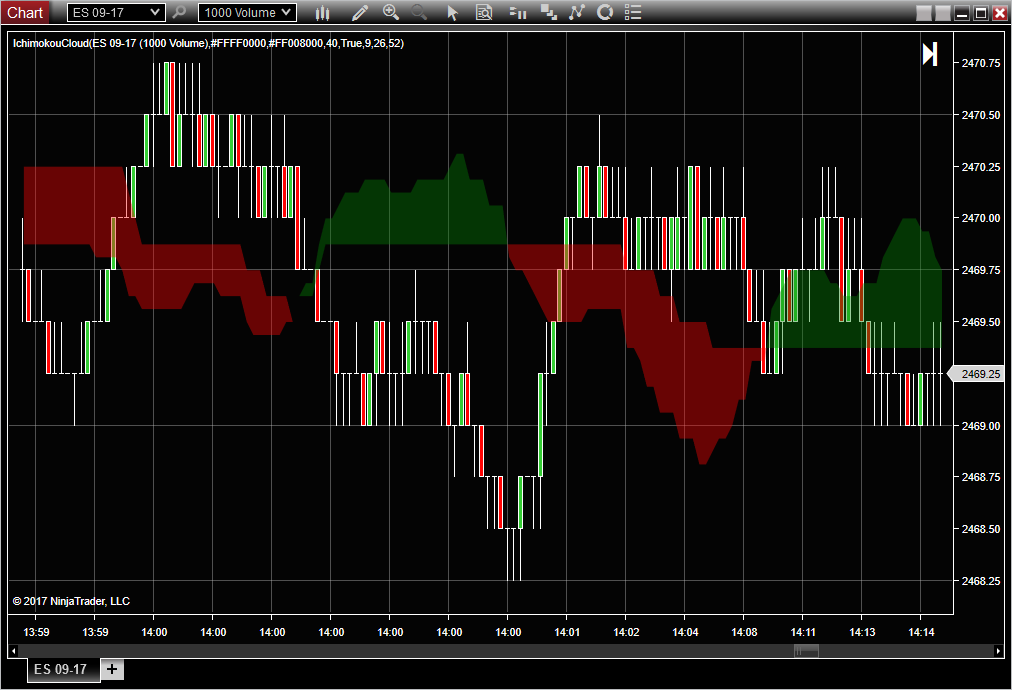 This indicator was ported from the Ichimoku Cloud indicator for NinjaTrader 7. The Cloud's points are constructed identically to the NinjaTrader 7 indicator, however the points are then used to construct new SharpDX PathGeometry Figures.
3/24/2021: Modified the Adjust Chart Margins feature so users are prompted when the indicator wants to change the Chart's Right Side Margin property
10/03/2019: Fixed rendering error with Equidistant Bar Spacing disabled.
8/13/2018: Rewrote the indicator's custom rendering so it is simplified and works on multiple ChartPanels
11/10/2017: Corrected OnRender() errors when switching tabs with Displacement on.
11/07/2017: This indicator has been updated to include a Displacement property. Set Displacement to 26 to align the cloud with the last completed bar.
| | |
| --- | --- |
| Created By | NinjaTrader_Jim |
| NinjaTrader Version | 8 |
| File Size | 38.0 KB |
| Create Date | 02/11/2019 |
| # of Downloads | 15039 |
Importing to NinjaTrader 8 is Easy!
To import your 3rd party app or add-on to NinjaTrader, simply follow these 3 steps:
Download the app or add-on file to your desktop
From the NinjaTrader Control Center window, select the menu Tools > Import > NinjaScript Add-On…
Select the downloaded file from your desktop
Questions?
Visit the NinjaScript File Sharing discussion in the NinjaTrader user forum to interact with fellow traders and the NinjaTrader support team.