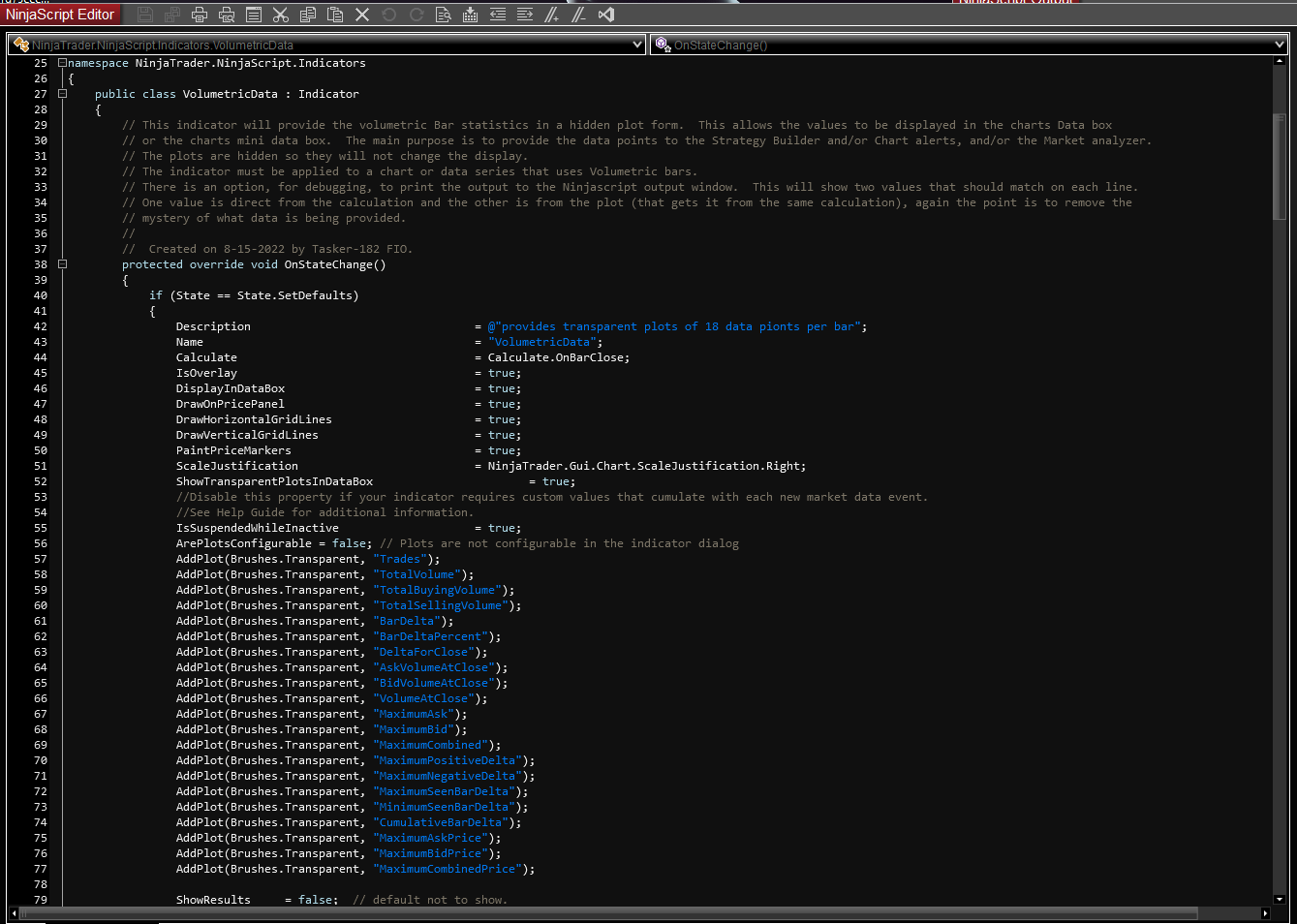 This indicator will provide the volumetric Bar statistics in a hidden plot form. The main purpose is to provide (through 21 plots) the bar statistics values to the Strategy Builder and/or Chart alerts, and/or the Market analyzer without the need to program. You can also use in a Ninjascript indicator or strategy. The 21 plots are hidden so they will not change the display. See the screenshot to see the names of the available data points (plots).
When you select the indicator in the strategy builder or the chart alerts, you can change the plot to any of the 20 other plots so you can work with the statistic of interest.
Also, all 21 plot values will show in the charts data box window or the charts mini data box.
The indicator must be applied to a chart or data series that uses Volumetric bars. You must have the NinjaTrader lifetime license to access the Volumetric bars.
There is an option, for debugging, to print the output to the Ninjascript output window. This will show two values that should match on each line. One value is direct from the calculation and the other is from the plot (that gets it from the same calculation), the point is to remove the mystery of what data is being provided.
| | |
| --- | --- |
| Created By | Tasker-182 |
| NinjaTrader Version | 8 |
| File Size | 3.0 KB |
| Create Date | 08/30/2022 |
| # of Downloads | 417 |
Importing to NinjaTrader 8 is Easy!
To import your 3rd party app or add-on to NinjaTrader, simply follow these 3 steps:
Download the app or add-on file to your desktop
From the NinjaTrader Control Center window, select the menu Tools > Import > NinjaScript Add-On…
Select the downloaded file from your desktop
Questions?
Visit the NinjaScript File Sharing discussion in the NinjaTrader user forum to interact with fellow traders and the NinjaTrader support team.