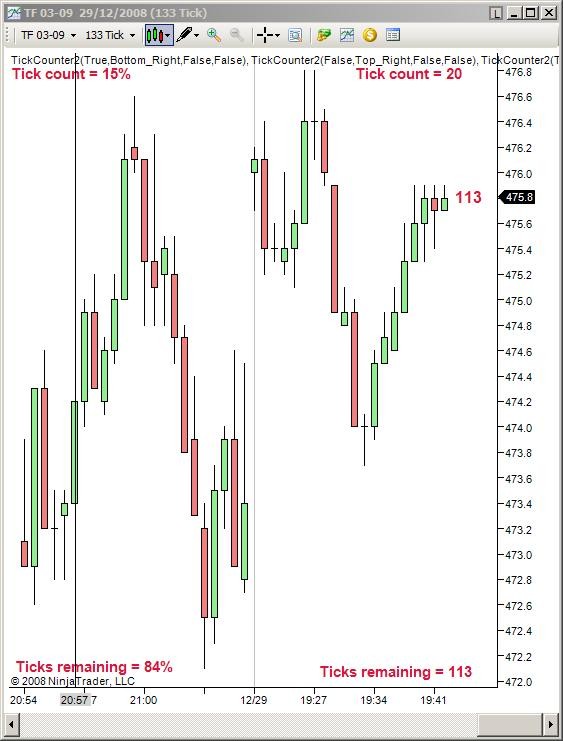 Will only work on a TICK chart
Modified from TickCounter2 (Ninja6.5 version) which was adapted from the NinjaTrader indicator "TickCounter", to provide additional display options, which include:‐
1. Select text color.
2. Select an additional 'alert' text color.
3. Select number of ticks from bar close to trigger alert color change.
4. Select text font.
5. Option to omit the descriptive text "Ticks remaining=".
6. Choice for location of text‐ Top/Bottom‐Right/Left or Float along Y‐axis at current price.
Note that for the Floating text option, the chart Properties "Right side margin" must be set to a value large enough for the text to be seen, otherwise it will disappear under the price axis.
| | |
| --- | --- |
| Created By | MJT |
| NinjaTrader Version | 7 |
| File Size | 3.6 KB |
| Create Date | 02/08/2012 |
| # of Downloads | 2587 |
Importing to NinjaTrader 7 is Easy!
To import your 3rd party app or add-on to NinjaTrader, simply follow these 3 steps:
Download the app or add-on file to your desktop
From the NinjaTrader Control Center window, select the menu File > Utilities > Import NinjaScript
Select the downloaded file from your desktop
Questions?
Visit the NinjaScript File Sharing discussion in the NinjaTrader user forum to interact with fellow traders and the NinjaTrader support team.