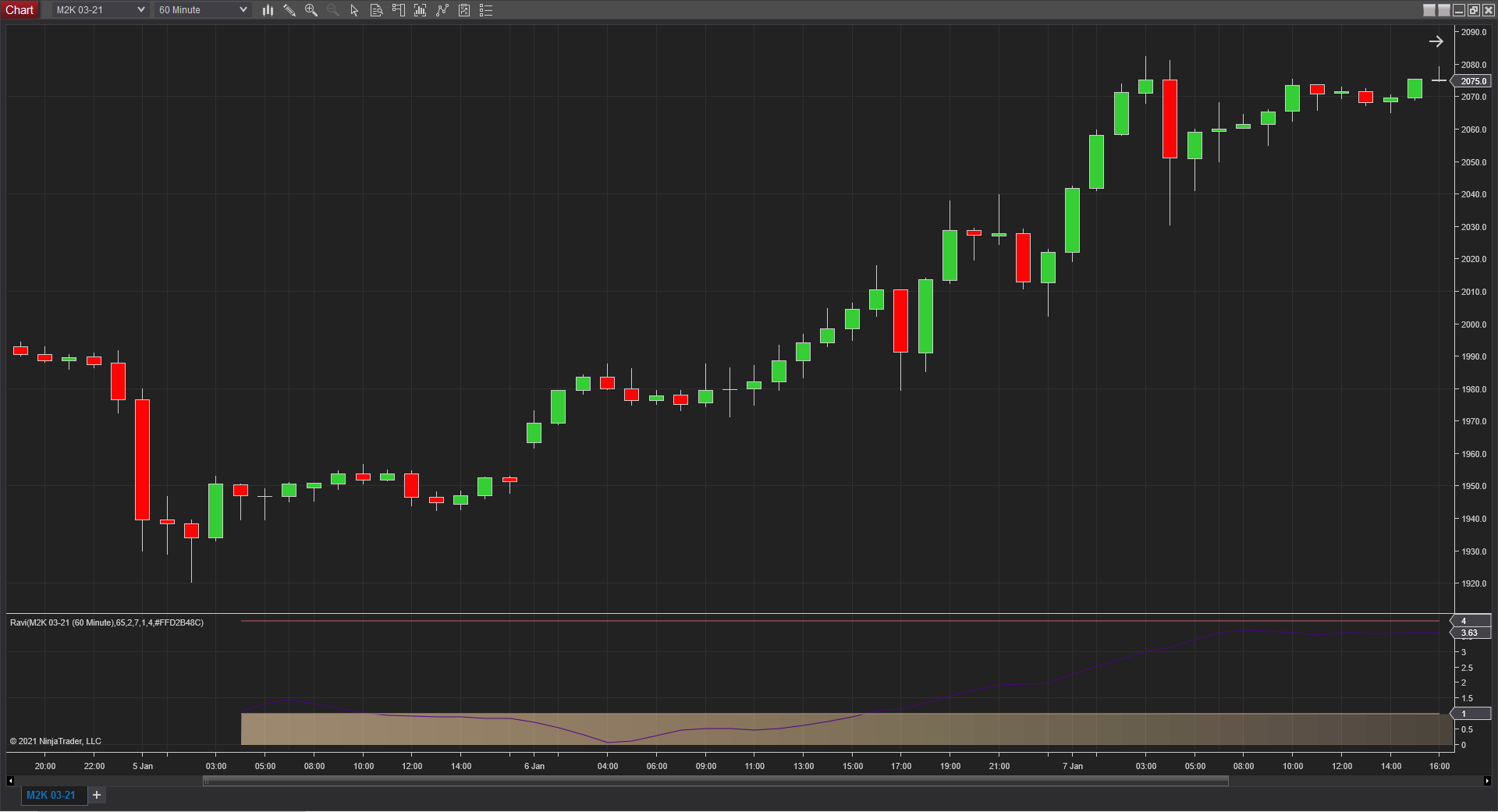 Apologies for previously posting an indicator under this name.
The Ravi indicator was not meant to be an oscillator and I had problems with lag when moving from a long to a short position and vice‐versa when trying to build a strategy. Referring back to Chande's book the error became obvious and was quickly rectified. Please find the right version now posted under its rightful name as the excellent Mr Chande intended. The oscillator version will re appear in due course under another non‐confusing name.
Range Action Verification Index taken from Chande's book 'Beyond Technical Analysis'. This indicator, used for trend identification and strategy building, is based on market momentum and responds more predictably than ADX.
By default this is calculated using a 7 day and 65 day sma. The threshhold is user defined (set at support and resistance) to determine whether an instrument is range bound.
A discretionary trade indicator has been added for use in strategy building as an alert line or threshold for adding to a position. This is not an oscillator so a strong trend in EITHER direction will be indicated by the 'ravi' plot breaking out of your predefined zone.
I just convert to NT8, idea from stocktraderbmp
| | |
| --- | --- |
| Created By | soon123 |
| NinjaTrader Version | 8 |
| File Size | 4.2 KB |
| Create Date | 01/08/2021 |
| # of Downloads | 373 |
Importing to NinjaTrader 8 is Easy!
To import your 3rd party app or add-on to NinjaTrader, simply follow these 3 steps:
Download the app or add-on file to your desktop
From the NinjaTrader Control Center window, select the menu Tools > Import > NinjaScript Add-On…
Select the downloaded file from your desktop
Questions?
Visit the NinjaScript File Sharing discussion in the NinjaTrader user forum to interact with fellow traders and the NinjaTrader support team.