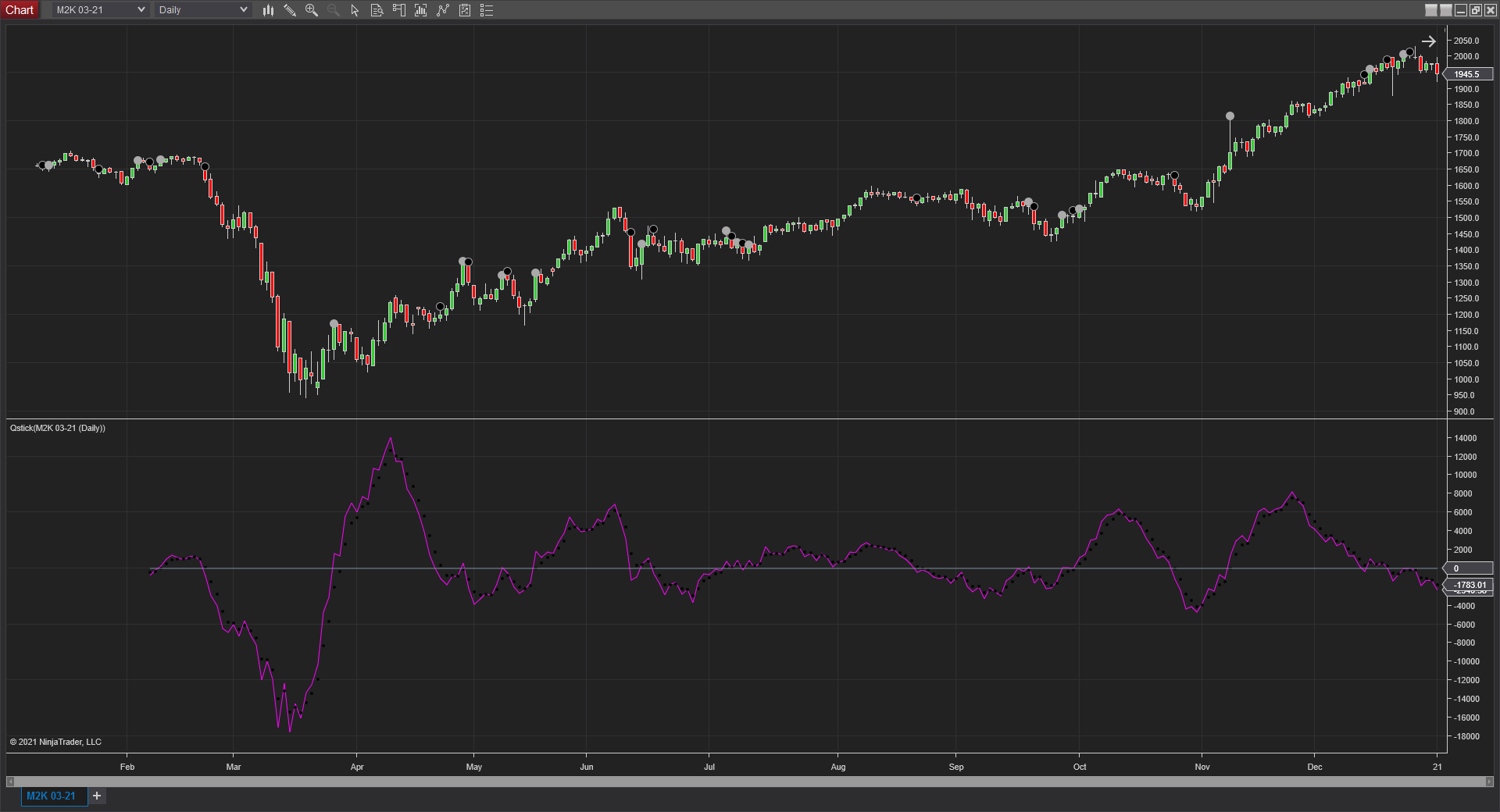 Developed by Chande. The Qstick indicator represents the moving average of the difference between the opening and closing prices of a security (range). The range is key in interpreting candlesticks so a pattern, say '3 Inside down', can be confirmed and an entry triggered as in the uploaded image. The Qstick oscillates above and below the zero line. A very basic trading principle is to buy a security on a cross up over the zero line and to sell the security on a cross down through the zero line. This may work well in sideways markets as the security is more likely to adhere to support and resistance levels. The Qstick also provides extreme readings that can often call market tops and bottoms. Also look for divergences between the price of the security and the indicator.
I have included an SMA of the Qstick in the code to give you an optional x‐over signal. The indicator will also paint a dot on the main chart when there's a cross through zero.
NOTE: The multiplier (currently set to 30, line 53 of code) will need to be adjusted if you want to overlay this on another oscillator and use the same scale.
I just convert to NT8, idea from stocktraderbmp
| | |
| --- | --- |
| Created By | soon123 |
| NinjaTrader Version | 8 |
| File Size | 3.7 KB |
| Create Date | 01/08/2021 |
| # of Downloads | 451 |
Importing to NinjaTrader 8 is Easy!
To import your 3rd party app or add-on to NinjaTrader, simply follow these 3 steps:
Download the app or add-on file to your desktop
From the NinjaTrader Control Center window, select the menu Tools > Import > NinjaScript Add-On…
Select the downloaded file from your desktop
Questions?
Visit the NinjaScript File Sharing discussion in the NinjaTrader user forum to interact with fellow traders and the NinjaTrader support team.