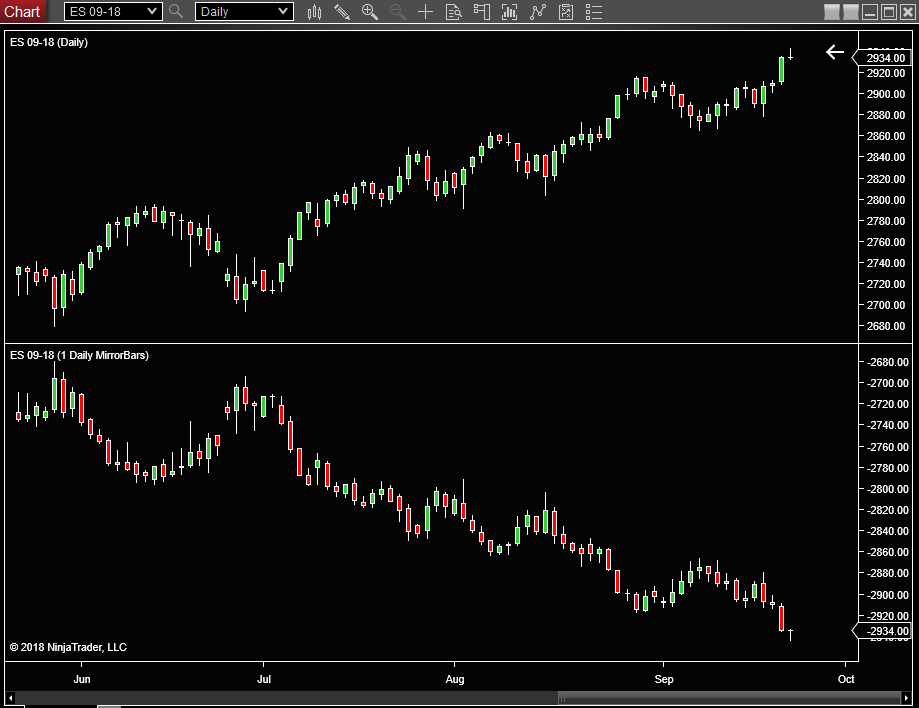 This is an update to the of the NinjaTrader8 MirrorBars bartype.
Will plot the mirror image of the input dataseries. Valid on Tick, Volume, Second, Minute, Day, week, Month and Year bars only.
Adds to your chart through the data series window as a bars type.
Example: Create chart with ES 12-18 daily bars, add ES 12-18 daily bars again, change the 2nd daily bars type to Mirror bars and select day.
Note: Mirror bars will show as a negative scale.
10-30-2018, corrected High/low switching for the mirror image.
| | |
| --- | --- |
| Created By | NinjaTrader_Paul |
| NinjaTrader Version | 8 |
| File Size | 3.7 KB |
| Create Date | 02/17/2017 |
| # of Downloads | 1723 |
Importing to NinjaTrader 8 is Easy!
To import your 3rd party app or add-on to NinjaTrader, simply follow these 3 steps:
Download the app or add-on file to your desktop
From the NinjaTrader Control Center window, select the menu Tools > Import > NinjaScript Add-On…
Select the downloaded file from your desktop
Questions?
Visit the NinjaScript File Sharing discussion in the NinjaTrader user forum to interact with fellow traders and the NinjaTrader support team.