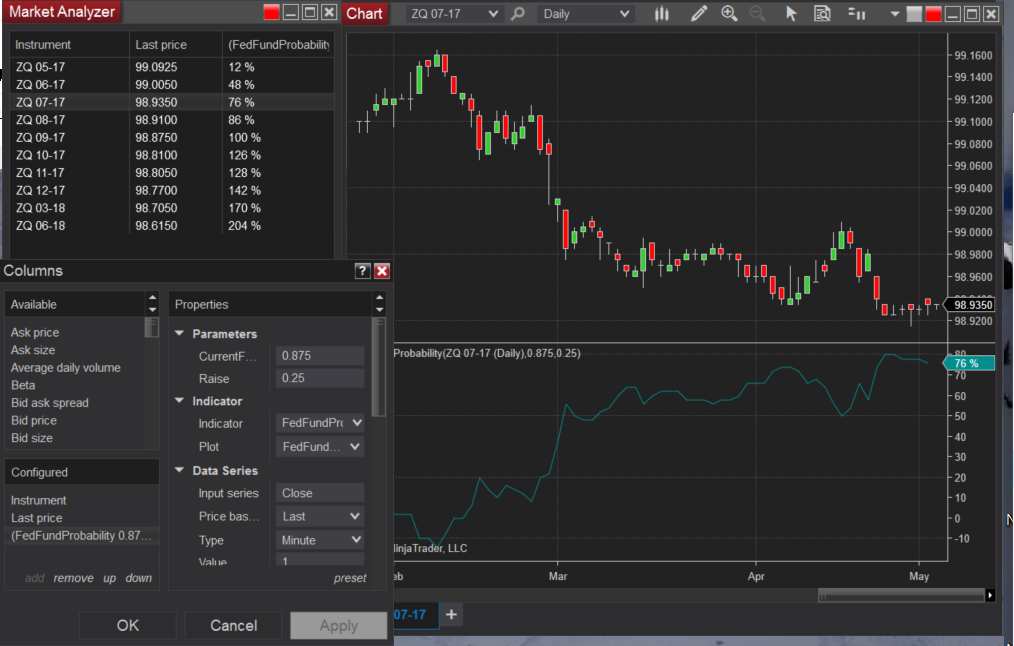 I built the FedFundProbability indicator which you can apply to a Fed Fed futures contract so that it will plot the probability of a specified rate hike. This also works great on a market analyzer window with a strip of FF Contracts. There are two user inputs required, the Current Fed Fund Target Rate and the Rate Change. The Fed Fund target rate at the moment is 1%-.75%, with an average of .875%. The expected next rate change would be .25%. I have set these as the defaults but going forward you would need to adjust the Current Target as rates change, and adjust the rate change should the market be pricing more aggressive rises/cuts.
You'll see if you apply the indicator to the ZQ 07-17 contract, there is a 76% chance of a 25 bps hike, whereas if you apply the indicator to the ZQ 11-17 contract, the probability is 126%. If you change the Rate Change parameter to 50 bps, the ZQ 11-17 contract prices out to having a 64% chance of a 50 bps hike by the November contracts settlement.
With this indicator, you would want you merge policy for ZQ set to Do Not Merge.
Thank you!
AlanP.
| | |
| --- | --- |
| Created By | NinjaTrader_AlanP |
| NinjaTrader Version | 8 |
| File Size | 1.9 KB |
| Create Date | 05/03/2017 |
| # of Downloads | 220 |
Importing to NinjaTrader 8 is Easy!
To import your 3rd party app or add-on to NinjaTrader, simply follow these 3 steps:
Download the app or add-on file to your desktop
From the NinjaTrader Control Center window, select the menu Tools > Import > NinjaScript Add-On…
Select the downloaded file from your desktop
Questions?
Visit the NinjaScript File Sharing discussion in the NinjaTrader user forum to interact with fellow traders and the NinjaTrader support team.