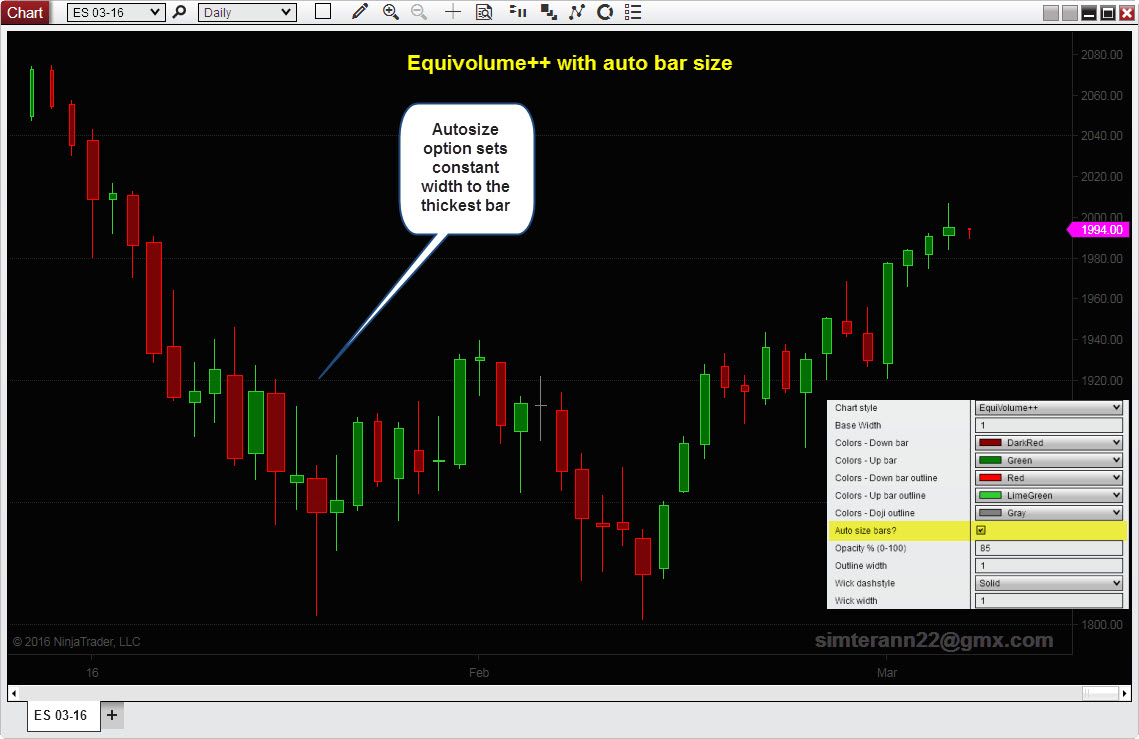 EquiVolume ++ ChartStyle (with Auto size bars option) V1
How does this differ from the standard NT8 one?
* Includes 'Autosize' option set to true by default that adjusts the bar width/spacing to the thickest equivolume bar, so minimal space is wasted and no overlapping will occur.
* I have also recoded the thickness formulae to show absolute comparisons rather than approximate.
* It also includes my CandleStick++ opacity and outline customization features.
* Bar plotting is cleaner and less distorted.
Remember this is for beta, so PM me with any bugs or questions.
| | |
| --- | --- |
| Created By | Sim22 |
| NinjaTrader Version | 8 |
| File Size | 2.7 KB |
| Create Date(s) | 03/11/2016 |
| # of Downloads | 743 |
Importing to NinjaTrader 8 is Easy!
To import your 3rd party app or add-on to NinjaTrader, simply follow these 3 steps:
Download the app or add-on file to your desktop
From the NinjaTrader Control Center window, select the menu Tools > Import > NinjaScript Add-On…
Select the downloaded file from your desktop
Questions?
Visit the NinjaScript File Sharing discussion in the NinjaTrader user forum to interact with fellow traders and the NinjaTrader support team.