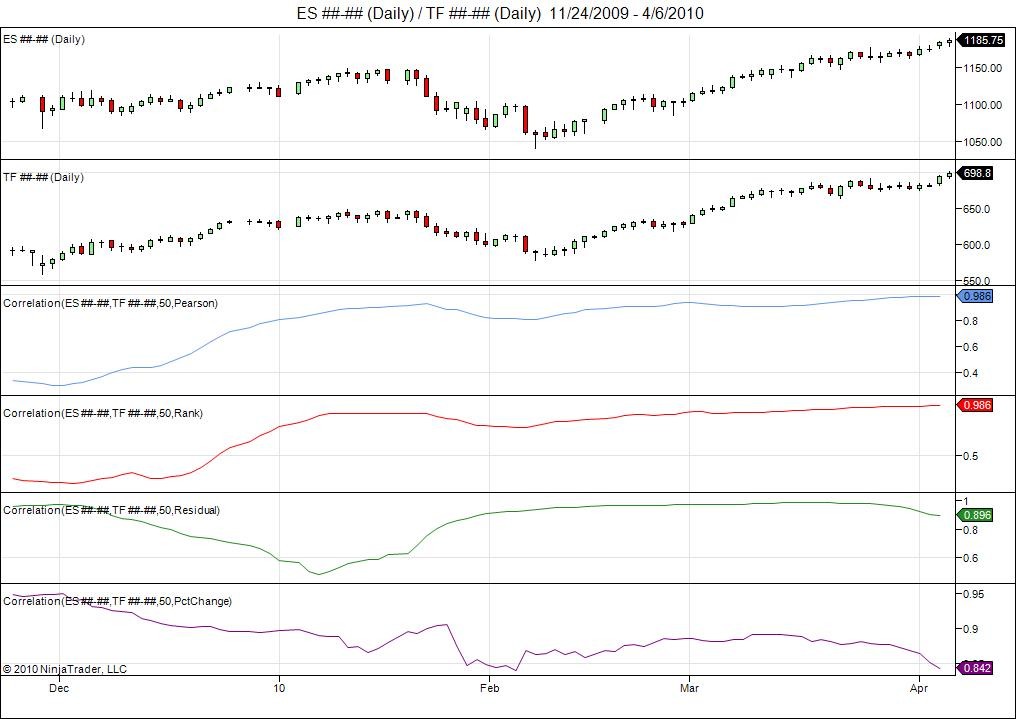 Plots the Correlation coefficient of two instruments (NT7 only)
The first instrument is the primary chart data series. The secondary instrument is specified by the parameter "Symbol2". The secondary instrument does not need to be plotted on the chart, but if it is, then "Symbol2" may be left blank and if will default to the second instrument displayed on the chart.
The "CorrelationType" parameter may be set as follows:
"Pearson": Pearson's Product-Moment Correlation (most common) (default)
"Rank": Correlation of the rank order of the data, also known as "Spearman"
"Residual": Correlation of the residuals (residual = error term = distance from a linear regression line through the data)
"PctChange": Correlation of the bar-to-bar percentage change
References:
Pearson: http://en.wikipedia.org/wiki/Pearson_correlation_coefficient
Rank: http://en.wikipedia.org/wiki/Spearman%27s_rank_correlation_coefficient
| | |
| --- | --- |
| Created By | kdoren |
| NinjaTrader Version | 7 |
| File Size | 9.6 KB |
| Create Date | 06/28/2010 |
| # of Downloads | 2648 |
Importing to NinjaTrader 7 is Easy!
To import your 3rd party app or add-on to NinjaTrader, simply follow these 3 steps:
Download the app or add-on file to your desktop
From the NinjaTrader Control Center window, select the menu File > Utilities > Import NinjaScript
Select the downloaded file from your desktop
Questions?
Visit the NinjaScript File Sharing discussion in the NinjaTrader user forum to interact with fellow traders and the NinjaTrader support team.