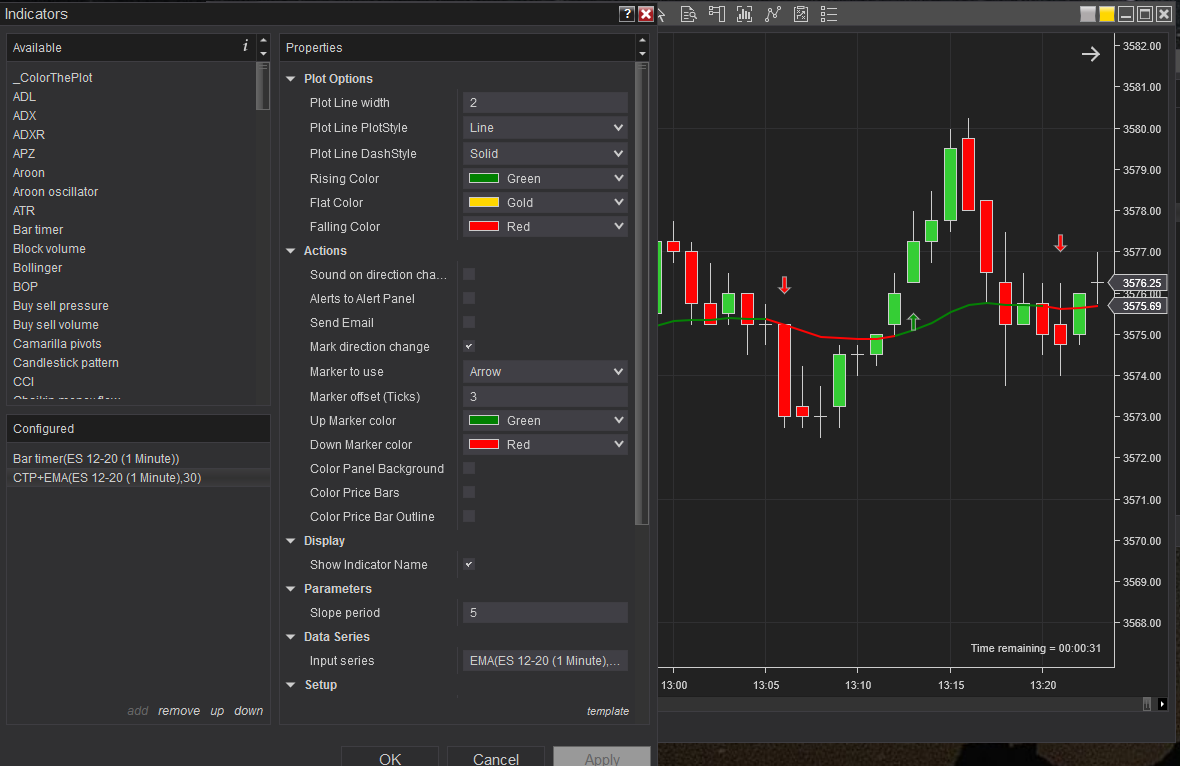 Description: This indicator can be used to color the rising and falling conditions of most any other indicators plot when used as the input series to this indicator. ColorThePlot offers the ability to select rising and falling colors, sound alerts, email, alerts, Direction change marking, panel color based on direction, bar coloring based on direction. The indicator also provides two hidden plots that can be used to provide signals to the Market analyzer, the Strategy builder or NS strategies. These hidden plots are "Signal" that provides a +1, 0, or-1 for direction change and "direction" for the current direction, +1 for up, -1 for down.
Note: When applied to an indicator that would normally reside in its own indicator panel, please make sure to select "New Panel" from the "Visual" section, otherwise it will put the indicator in the price panel and will flatten the price bars and the indicator. The chart will show a note advising what to do as a reminder.
Here is a short video on its uses.
Update v1.1 11/1/2021 - Added Options to limit the number of draw markers for general NS performance improvement, changed ChartPanel check in case Chart bars are not panel 0. Note use 99 to show unlimited draw markers.
| | |
| --- | --- |
| Created By | NinjaTrader_PaulH |
| NinjaTrader Version | 8 |
| File Size | 6.0 KB |
| Create Date | 11/19/2020 |
| # of Downloads | 1643 |
Importing to NinjaTrader 8 is Easy!
To import your 3rd party app or add-on to NinjaTrader, simply follow these 3 steps:
Download the app or add-on file to your desktop
From the NinjaTrader Control Center window, select the menu Tools > Import > NinjaScript Add-On…
Select the downloaded file from your desktop
Questions?
Visit the NinjaScript File Sharing discussion in the NinjaTrader user forum to interact with fellow traders and the NinjaTrader support team.