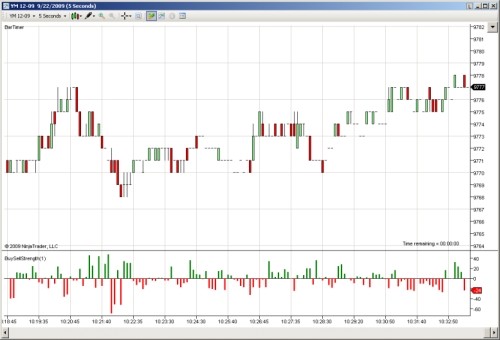 Obtains a Difference value by subtracting the Bid volume from the Ask Volume.
If the Ask volume is greater than the Bid Volume, plots an upward green bar of the Difference value.
If Ask Volume less than or equal to the Bid Volume, plots a downward red bar of the Difference value
This indicator does not work with historic data as the Ninja functions GetCurrentBidVolume and GetCurrentAskVolume require live data to return values.
| | |
| --- | --- |
| Created By | tulanch |
| NinjaTrader Version | 7 |
| File Size | 2.2 KB |
| Create Date(s) | 06/28/2010 |
| # of Downloads | 4701 |
Importing to NinjaTrader 7 is Easy!
To import your 3rd party app or add-on to NinjaTrader, simply follow these 3 steps:
Download the app or add-on file to your desktop
From the NinjaTrader Control Center window, select the menu File > Utilities > Import NinjaScript
Select the downloaded file from your desktop
Questions?
Visit the NinjaScript File Sharing discussion in the NinjaTrader user forum to interact with fellow traders and the NinjaTrader support team.