Paint Trending Bars
September 30th, 2020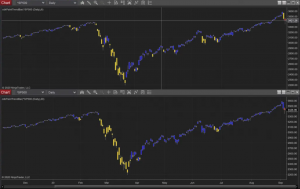 100% FREE on our User App Share, the Paint Trending Bars indicator signals a trending market by painting all bars in the same color as long as the trend remains.
The simple logic of this indicator compares the current bar's close with the difference of the average close and ATR percent. If greater, a bullish trend is indicated. If less, a bearish trend is plotted.
Generally, the more bars you use the longer the trend remains, with the purpose of keeping traders in winning positions longer. Learn more here.
Interested in other FREE tools? Check out the Open Range Indicator and Risk Reward Indicator!
Importing to NinjaTrader 8 is Easy!
To import your 3rd party app or add-on to NinjaTrader, simply follow these 3 steps:
Download the app or add-on file to your desktop
From the NinjaTrader Control Center window, select the menu Tools > Import > NinjaScript Add-On…
Select the downloaded file from your desktop